Dallas Bicycle Accident Lawyer
Are you in the hospital because a negligent driver crashed into you on your bicycle? If so, call our Dallas bicycle accident lawyers at McGilberry & Shirer today for legal counsel. Our experienced attorneys can make sure an insurance company doesn't get away with undervaluing your bicycle accident claim in Dallas. The at-fault driver could owe you damages to cover your hospital bills, lost income, property damage, and non-economic harms. Get the most out of your insurance or bicycle injury claim with top legal representation from our personal injury lawyers in Dallas.
Bicycle Accident Resources
Most Common Bicycle Accident Injuries
A motor vehicle colliding with a bicyclist can result in serious injuries to the latter. Bicyclists do not have the protections that vehicle passengers have. They are more likely to suffer serious to catastrophic injuries in an accident. Although every bicycle accident case is unique, most tend to result in the same or similar injuries to victims. In our years of practicing bicycle accident law in Dallas, we've helped clients with injuries such as:
Bone fractures. If the impact of the vehicle and bicycle places too much pressure on the victim, he or she could suffer broken bones. Bone fractures can force the victim to take a temporary leave from work during recovery. Serious fractures can cause permanent limitations in mobility.
Head and brain damage. The state of Texas does not enforce universal helmet laws. This means that bicyclists of all ages can legally ride without helmets unless they are in counties that enforce different statutes. Bike accidents pose a high risk of head and brain injuries, especially if the rider isn't wearing a helmet.
Spinal cord injury. The bicyclist could suffer a serious spinal cord injury if the impact crushes the spine, fractures the bone, or damages the delicate spinal nerves. A spine injury can permanently impact the ability to move and feel below the point of damage. A bicyclist may never be able to recover from a spinal cord injury. It is important to contact a spinal cord injury lawyer in Dallas to get the compensation you deserve for such a life-changing injury.
Pedalcyclist Fatalities By City in Texas (2015)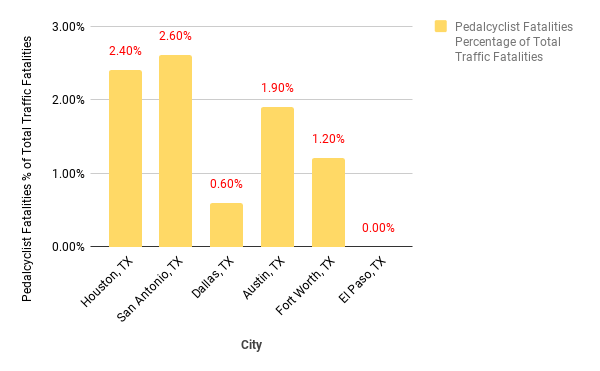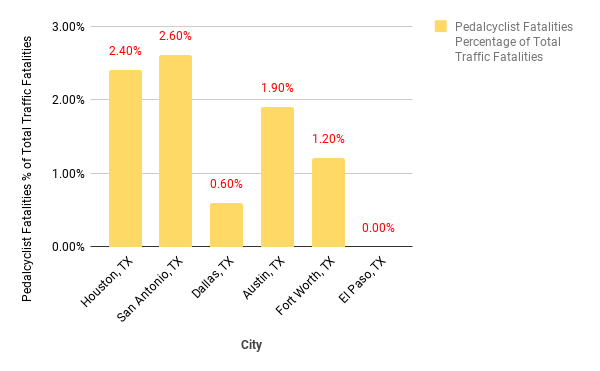 According to the NHTSA's 2015 Traffic Safety Facts Report, here are the bicyclist fatalities as a percentage of total traffic fatalities. The Texas cities presented in the report had to have a population of over 500,000 people. The percentage is calculated by taking the bicyclist fatalities in each city and dividing it over the total amount of traffic fatalities in each city. The city in Texas with no bicyclist deaths was in El Paso while the lowest fatality rate for cities that had fatalities was in Dallas. El Paso had the lowest resident population in these cities, with a population of 681,124, while the highest resident population in Texas was in Houston with a population of 2,296,224.
Dallas is home to thousands of avid bicyclists, both for commuting and for recreation/exercise in free time. Unfortunately, Dallas is also home to aggravated, impatient, and distracted drivers. This combination means dozens of cyclist injuries and deaths in Dallas every year. In 2016, 65 pedal cyclists throughout the state of Texas died in vehicle collisions – a 25% increase from 2015. It is up to motor vehicle drivers to operate safely around vulnerable road users such as bicyclists and pedestrians. Failure to take due care, resulting in a collision, is negligence.
The Basics of Bicycle Accident Liability in Texas
Texas is an at-fault state when it comes to auto accident liability. This means that the driver who caused the bicycle accident will be responsible for paying the victim's medical expenses. Injured bicyclists will seek benefits from the at-fault driver's insurance company. An insurance claim will require negotiations with insurance adjusters – employees who will aim to get the claimant to settle for as little as possible. This is where an attorney can help.
Working with a lawyer for your insurance claim after a bicycle accident can prevent an insurance company from taking advantage of you as a victim. Legal representation can help you understand and protect your rights, as well as fight for fair compensation. It can also mean going up against non-drivers who might be responsible for your accident. This might mean a bicycle part manufacturer, the city of Dallas, or another party.
Bicycle accident liability will come down to the entity or entities responsible for the proximate cause of the accident. This means the act of negligence that was the most responsible for the collision. It may take an investigation to determine liability for your bicycle accident. The Texas courts will split accountability between two or more parties, if necessary.
Elements for a Bicycle Accident Claim
For a bicycle accident victim to have a valid personal injury claim, he or she must prove four main elements in the civil courts. First, that the defendant owed the victim a duty of care at the time of the accident. Second, that the defendant failed to fulfill this duty of care. A failure could mean distracted driving, speeding, drunk driving, or another act of negligence. Third, that the failure caused the bicycle accident. And fourth, that the victim suffered damages as a result.
If you want to know whether you have all the necessary elements for a bicycle accident claim in Dallas, consult with a Dallas personal injury attorney. A legal evaluation can help you establish the identity of the defendant(s), file your claim within the state's two-year deadline, and fight for a full recovery for your medical bills, lost wages, property damages, emotional pain, and physical suffering.
Seek help from our personal injury attorneys in Dallas after suffering any type of bicycle accident injuries. We've helped clients fight for compensation for injuries to many parts of the body, as well as for emotional and psychological injuries. We can help you handle hospital bills, insurance claims adjusters, and more while you focus on healing.
Bicyclist Rights and Responsibilities in Dallas
All cities in Texas retain the right to enact citywide bicycle ordinances, in addition to statewide bike laws. The city of Dallas – once one of the most dangerous cities for cyclists – now enforces a number of rules and regulations that apply to all roadway users in an effort to increase the safety of bicyclists. As a bicyclist in the Dallas area, here are a few rights and responsibilities to know:
As of 2014, adult bicyclists in Dallas no longer have to wear helmets. The city's helmet requirement now only applies to those under the age of 18. If you were exercising your right not to wear a helmet in your accident, the defense likely cannot use this fact against you, since you weren't breaking a law. Texas as a state has no bicycle helmet laws.
Bicyclists cannot ride on sidewalks in downtown Dallas business districts. They must instead ride in the roadway with other vehicles and adhere to all applicable roadway rules. If on sidewalks outside the central business district, bicyclists must yield the right-of-way to pedestrians.
Bicyclists must use bike paths when and if they are available in Dallas. Otherwise, they have a right to use the regular roadway. Bikers can ride two abreast of one another in a single lane but may not ride next to cars. Bicyclists should stay as far to the right-hand side of the right lane as possible except when making a left turn.
It can be difficult to keep track of all the city and state bicycle laws that apply to you as you make your way around Dallas. After a collision with a motor vehicle, don't admit fault to the driver. Even if you're not sure of your rights and responsibilities, don't admit fault. Wait for police to arrive and investigate the accident. Make sure you give the responding officer your side of the story before leaving the scene. Go to the hospital for injury treatment, and then contact McGilberry & Shirer. We offer free case evaluations, so you can discuss your rights as a victim at no charge.