Work Accident Lawyers in Dallas, TX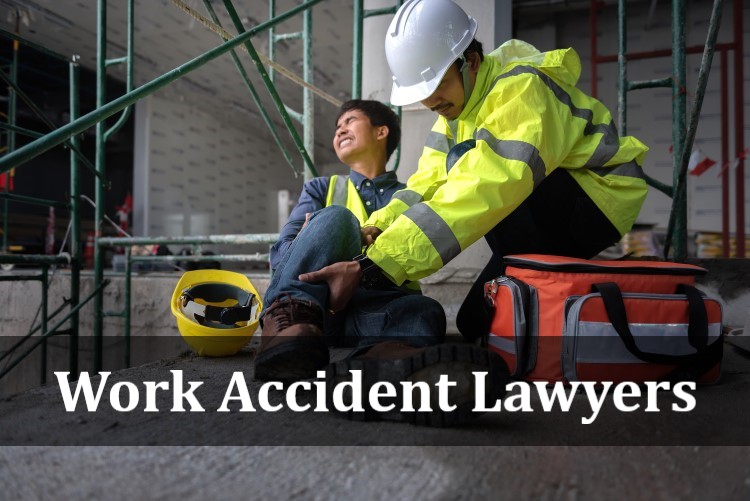 Dallas Work Injury Lawyers
No matter the line of work, injuries are a part of the job. Whether those injuries come from dangerous working conditions or the repetitive stress of working at a computer, every injury is serious and deserves to be taken seriously. That is where we come in.
If you have a work-related injury, you need the help of a knowledgeable work accident attorney to ensure that you get the compensation you deserve. At McGilberry & Shirer, we're dedicated to preserving the rights of people injured at work. Whether you were injured due to unsafe working conditions, a lack of ergonomics, a lack of proper safety equipment, or a simple accident, you deserve compensation for your injuries. Contact us today to learn how our Dallas work injury attorneys can help you get the justice you deserve after your accident.
Workers' Compensation Insurance
Workers' compensation insurance is the best way for employers to provide benefits to employees who are injured on the job. Despite the prevalence of workers' comp, it is not universal. Not all businesses carry the insurance, and the state of Texas does not require workers' compensation insurance. Whether or not the company employing you is a workers comp subscriber will dictate how you go about making claims if you are injured on the job.
Receiving Compensation From a Workers Comp Subscriber
Any business that carries a workers compensation policy is classified as a subscriber. Under Texas law, subscribers are exempt from certain cases of employee lawsuits. If you are injured while working for a subscriber, the first course of action to take is to make a worker's compensation claim. Typically, this process is standardized. There will be forms to fill out and steps to take, but the insurance is designed to provide reliable payouts to injured employees.
Not all work injuries are adequately covered by workers compensation insurance, however. Cases of gross negligence or extreme financial distress may merit additional compensation. When that is the case, our Dallas work accident attorneys can help you pursue that additional compensation. We'll be happy to explore all of your legal options.
Receiving Compensation From a Workers Comp Non-Subscriber
If you work for a workers comp non-subscriber, the process of compensation is not as clearly defined. That does not mean that you are out of options. There are plenty of avenues to pursue due compensation, but they won't be standardized and will depend largely on the specifics of your situation. 
The first avenue to explore is alternate coverage. Many employers have insurance analogous to but separate from workers comp. If your employer carries no insurance, you'll need to work out a settlement or bring your employer to court in order to get compensation for your injuries. 
Even if your employer carries alternate insurance or wants to settle the case out of court, it's good to have an experienced work injury attorney on your side. The personal injury lawyers at McGilberry & Shirer can help you gather evidence of your injury, compile your bills, and determine if the offered payment is sufficient to cover your medical bills, pain and suffering, and time off work. If not, we can help you renegotiate the settlement or bring your case to court. With us on your side, you won't have to settle for less than you deserve.
How to Establish an Employer's Liability
One of the primary points of contention in injury claims is liability. Workers compensation only guarantees payments when liability is properly established. Similarly, workers comp alternatives and lawsuits will create a burden of proof. Overcoming that burden is possible, and it's easier when you know what to expect.
Essentially, you must be able to prove two things in an injury claim. The first is that your injury happened on the job. A car accident on the way to work will not be sufficient. The injury has to occur directly from work. That can include a car accident while making a delivery, slipping and falling, or anything else that happens while you are on the clock.
The second burden of proof is that the employer was negligent. Essentially, it has to be work's fault that you were hurt. This could take the form of anything from forcing you to work in unsafe conditions to failing to provide proper ergonomic equipment so that you wouldn't get an overuse injury.
To avoid liability for your accident, the defense may try to prove that you were at fault for the accident. Since Texas is a modified comparative negligence state, you can only claim compensation if you were less than 50% at fault for the accident. It will often be necessary to prove that you were of sober mind when the incident occurred, that you didn't intentionally cause the injury, that the injury was not reasonably expected, and that you were not personally responsible for the incident. 
Collecting proof of your employer's fault, presenting your case in court, and defending against their accusations can be tricky if you don't have the right representation on your side. At McGilberry & Shirer, our attorneys have represented clients in a wide variety of work injury cases throughout the Dallas/Fort Worth area, and we can help you achieve the best possible outcome in your court case.
When a Third Party Is Involved or At Fault
If a third party was at fault or partially at fault for your accident, there may be special considerations. Such third parties may include contractors, equipment maintenance technicians, equipment manufacturers, or delivery drivers. If a third party was responsible for your on-the-job injury, you may not be eligible for workers comp or compensation from your employer. In other cases, workers compensation may cover a portion of your damages, and you'll need to pursue the third party for the remainder. Whatever the case may be, we can help you sort out the facts and get compensation for your damages.
Contact Our Texas Work Injury Attorneys
At McGilberry & Shirer, our goal is to ensure that an injury doesn't derail your life. We're here to make sure that you don't get thrown into debt due to a work injury that wasn't your fault. We'll gather the facts of your case and make sure that you get the compensation that you deserve.
Bill Shirer is one of 2% of attorneys in Texas who has received board certification from the Texas Board of Legal Specialization to practice personal injury law. Together, he and Steven McGilberry have over 60 years of legal experience, and they have represented clients in courts throughout the Dallas/Fort Worth metroplex. We offer free, no-obligation consultations, and you don't pay a penny unless we win your case. Contact us today to schedule a consultation at our Dallas office.
Work Accident Areas of Expertise