Construction Accident/Workplace Injury Lawyers in Dallas, TX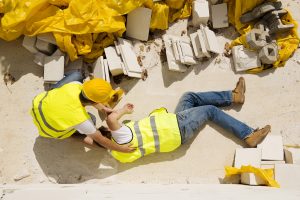 </div> If you or a loved one suffered an injury in any type of construction accident, discuss your future with an injury attorney lawyer in Dallas. Our construction accident attorneys at McGilberry & Shirer could help you explore your rights outside of workers' compensation and help you hold a construction company or other entity responsible for your injuries. We work hard to secure our client's maximum compensation.
McGilberry & Shirer bring clients the benefits of more than 60 years of legal experience, along with a passion for personal injury law. Our injury lawyers in Dallas want to hear from you if you've suffered injuries in a Dallas construction accident.
Heavy machinery, live electrical components, ladders and scaffolds, power tools, building materials are just some of the potentially dangerous objects the average construction worker encounters every day. Construction is America's most dangerous industry, accounting for more than one in five worker deaths each year. Construction isn't only hazardous for workers, however; construction sites can also be the settings of driver and pedestrian injuries.
Construction Accident Resources
Common Causes of Dallas Construction Accidents
Like most personal injury accidents, construction-related ones often come down to one main issue – negligence. Every party involved in the operation of a construction site bears some responsibility to workers and passersby. These duties might include properly training workers, providing proper safety gear, keeping machinery out of the road, posting warning and hazard signs, or directing traffic and pedestrians to use an alternative route. Breaching a duty of care, resulting in injuries, is negligence. Some common causes of construction accidents include:
Careless construction site managers. Violating safety regulations, not maintaining safe premises, and failing to train and protect workers are all examples of negligence that could lead to construction company liability. Seek the assistance of a premise liability attorney in Dallas. It is the company and site manager's job to keep sites working safely and efficiently.
Negligent construction workers. Construction worker injuries can also stem from careless or negligent co-workers, who might drop things, cause transportation accidents, or otherwise cause preventable harms at work. In most cases, the construction company will be vicariously liable for the actions and behaviors of employed workers. Consult with a Dallas industrial accidents lawyer to discuss if the construction company is liable.
Defective or dangerous consumer goods. Sometimes defective construction equipment causes harms to workers and others. For example, there have been thousands of lawsuits regarding harmful exposure to asbestos in construction materials such as drywall and insulation. These cases could give rise to product liability claims in Texas.
About Construction Accidents Law in Texas
Construction accidents law deals with personal injuries and wrongful deaths that arise out of accidents on construction sites. It also deals with the standards, regulations, and OSHA (Occupational Safety and Health Administration) rules that pertain to the construction industry. Construction accidents receive their own subsection in work-related accident law because of the unique risks that are present in this industry. These can include:
Poisonous or hazardous chemicals and substances. Workers in construction may suffer injuries or illnesses from exposure to harmful substances such as asbestos, acids, flammable liquids, oils, or gases. It is an employer's duty to make sure employees have proper training and safety equipment to work around these chemicals.
Heavy machinery. Cranes, scaffolds, trucks, tractors, diggers, pavers, drills, earthmovers, and other heavy equipment pose serious dangers to construction workers and pedestrians. According to OSHA, transportation accidents are the most common cause of construction worker deaths annually.
Slip, trip, and fall hazards. Falls are the second-leading cause of construction worker fatalities in the U.S. Falls from ladders and scaffolds are the most common serious accidents, along with slips and trips on same-level surfaces, from tools and debris in pathways. Falls can cause deadly brain or spinal cord injuries.
Burn and electrocution risks. Construction workers and pedestrians may be at risk of severe burns from fires and explosions at construction sites, as well as from electric burns from contact with live power lines or electrical boxes. Burns can permanently scar and disfigure victims, as well as require amputations of limbs.
Struck-by object. Tools falling from scaffolds, building walls collapsing, and equipment coming apart can all strike workers and cause serious injuries to workers and others. Struck-by object accidents killed 93 construction workers in a single year. Worker negligence and lack of securing items contribute to these accidents.
Construction accident law is different from other legal theories. It may involve more than one responsible party or basis for the lawsuit. For example, you might have grounds to file a workers' compensation claim without proving negligence – but you might be eligible for more if you can prove someone's negligence. Our firm can offer counsel on your construction accident case no matter what caused your injuries or a loved one's death in Dallas.
Should I Hire A Construction Accident Lawyer?
You should hire a personal injury attorney after a construction accident of any kind in Dallas. Whether you're a construction worker or an innocent passerby, you deserve to explore your rights under the guidance of some of Dallas's top lawyers. The attorneys at McGilberry & Shirer LLP will walk you through every step of the claims process, from the initial accident investigation to the final settlement agreement or jury verdict. We'll make filing your claim easy so you can focus on your personal wellness. It's our job to make your lawsuit as stress-free as possible.
You only have two years from the date of your construction accident to file a lawsuit in the state of Texas. If you aren't sure whether a workers' compensation claim or a personal injury lawsuit is right for you, act even faster. You generally only have 30 days to report your accident to an employer. A personal injury suit could result in better compensation than workers' comp. Missing your deadline could be the end of your claim's future.
Discover which legal path is right for your unique case during your free evaluation with our attorneys. Why choose us? We have a deep understanding of federal and state construction accident laws, including the most frequently cited OSHA safety standards. We know how to represent these types of clients to their best advantage. View our past client testimonials to see what others are saying about us in Dallas.
As you can see, a common theme in construction accident law is the legal concept of negligence. Proving negligence requires showing that one or more parties owed you a duty of care, failed to fulfill this duty, and subsequently caused your accident. You might need a full-blown investigation of your incident, complete with eyewitness interviews and an inspection of the construction company's ethics, to prove negligence in front of a judge or jury. For these services and countless others, count on McGilberry & Shirer.
Schedule a Free Construction Accident Consultation Today
Our Dallas construction injury attorneys might be able to help you secure full compensation for all your financial and personal costs. You have two years to pursue a claim, so don't wait – contact us for a free consultation. Call (972) 392-1225 to get in touch with our team in Dallas.